As an internet comedy writer, it is often my duty to take a look at Yahoo! And Google to see what topics are trending. I need to know what is on the minds of the people, even if those topics are usually
Jersey Shore
and
Glee
.

This is what we need to know about.
However, I was pleased recently when it looked as though we had all caught "Hey, isn't there something going on in Egypt?" fever. While not everyone was completely aware of the details, the trending topics on the web indicated to me that we were all ready to shift our focus from Taylor Swift for a moment to see what was going on in the outside world. It was a proud day for anyone who has ever been on the Internet.
Sadly, it was short-lived. The other evening, I checked the Google trends, thinking maybe we were all intrigued about the situation in Libya, or the problems Wisconsin has been having. But that's not what I found. No, in the wake of Egypt's revolution, what was on the mind of the average Google user?
Justin Bieber's new haircut.
Now, don't get me wrong; I am sure that Justin Bieber's hair is of the utmost geopolitical significance. We Americans stole him from the Canadians because he will prove to be a valuable asset for our national security. Few people would want to invade a country in which he is a constant presence, and for those who are still crazy enough to try, all we have to do is distract them with his utterly baffling hair. While they are asking, "How is it so fucking shiny?," we are slaughtering them.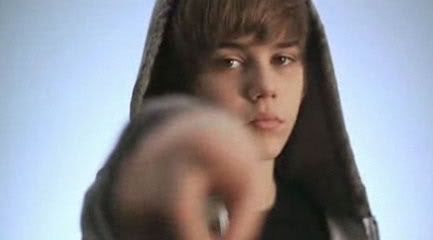 He's like a new Uncle Sam.
So, sure, the Bieber's new style may have repercussions for all Americans in the future. But with so much else going on in the world, one has to wonder if perhaps this is a topic which should not be all that popular. Granted, not everyone wants to hear about a foreign government killing protesters, but it's not like hearing about a celebrity haircut is a good substitute, unless the celebrity got the haircut to fight terrorism or some such.
On the other hand, if Bieber shaved off all his hair, he would look even more like a baby. I'm sure it is adorable.

But seriously, he's a straight thug. Don't mess.